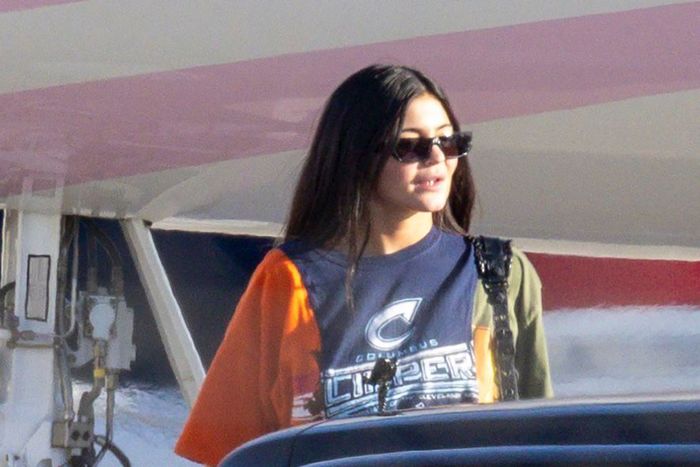 Kylie Jenner makes a quick day trip to Palm Springs with mom Kris Jenner and Corey Gamble on June 20.
Photo: Jesal/REX/Shutterstock
Kylie Jenner: model, influencer, and "climate criminal"? The Kardashians star is facing wrath after a recent trip on her jet was reported (at first) to have clocked in under three minutes — not even enough time to apply the Kylie Skin Detox Face Mask. Jenner is hardly the only celebrity to indulge in these types of extremely short flights, using her jet the way the rest of California uses a car, but why is she so frequently opting to fly between the Southern California airports of Van Nuys and Camarillo, about 40 miles apart? Traffic can't be that bad, can it?
First of all, the trip in question was actually 17 minutes, clarified Jack Sweeney, the creator of the flight-tracker account @CelebJets. (He has also built trackers for Russian oligarchs and wannabe oligarch Elon Musk.) The data does not always translate correctly to the Twitter feed, which is automated. Trips under a half-hour are fairly common for people with extremely large bank accounts — Mark Wahlberg's jet was recently in the air over L.A. for nine minutes — but Jenner's short hops up and down the 101 freeway are often among the shortest flights noted on @CelebJets: ten, 12, 15 minutes.
Although Jenner caught flak for burning a cross-country-road-trip's worth of fossil fuel to do something like go to the mall — and that doesn't even include the Escalade ride to the airport — Sweeney offers a possible explanation:
"I believe it was for parking the aircraft in Camarillo, while they get off at Van Nuys. Same with Kim," Sweeney tweeted. "It's probably cheaper." Circling while trying to find less expensive parking? Celebrities: They really are just like us!