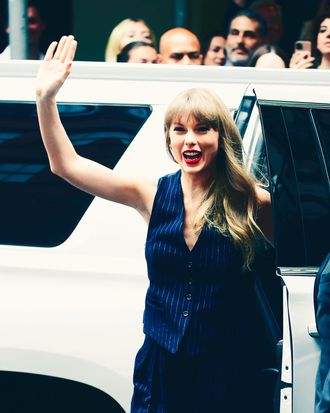 Photo: Raymond Hall/GC Images
Earlier this month, Kylie Jenner thought it would be cute to Instagram her and Travis Scott's twin private jets while much of the country was suffering through a heat wave and several wildfires that continue to burn. The immediate backlash inspired some internet sleuths to take a closer look at the very short and very wasteful private-jet flights that celebrities are apparently taking, with many debating which celebrity wins the title of the worst "climate criminal." Is it Kylie, who reportedly took a three-minute flight from one part of California to another? Or maybe it's Drake, who evidently doesn't understand climate change and thinks it's fine for his private jet to take multiple 14- to 18-minute trips as long as there are no passengers onboard? (Per Drake, the planes get moved for storage.) Turns out the biggest private-jet polluter of the year is actually Taylor Swift.
According to sustainability-driven marketing agency Yard, which published research on Friday about which celebrities are the "worst private jet CO2 emission offenders," Swift has taken 170 flights on her private jet since January, with an average flight time of 80 minutes and her shortest flight clocking in at 36 minutes. While T. Swift's flights are longer than some of her carbon-emitting counterparts, Yard's research indicates that her total flight emissions from this year (which, I might add, is barely two-thirds of the way over) are already over 8,000 tons, which is at least 1,000 times higher than the average person's annual carbon emissions. I guess celebrities are not like us? Other names on Yard's list of climate offenders include Jay-Z, who ranked third; Kim Kardashian, who ranked seventh; and Travis Scott, who came in tenth. Kylie, surprisingly, didn't even make the list, which, good for her, I guess? But all very bad for our warming planet.
Swift responded to the report through a spokesperson, who told TMZ, "Taylor's jet is loaned out regularly to other individuals. To attribute most or all of these trips to her is blatantly incorrect." According to this statement, Swift has not personally taken 170 flights on her private jet in the last 212 days. Whether or not that absolves her of any responsibility, well, that's another conversation entirely.
This post has been updated.