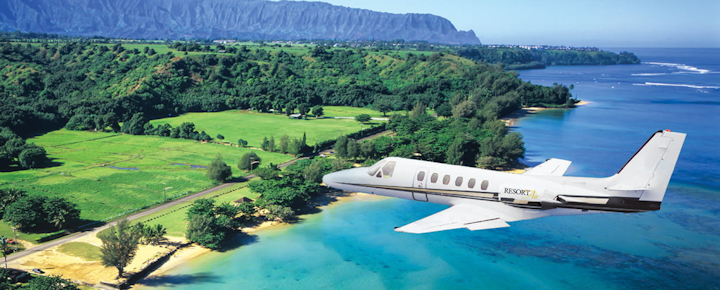 Beyond the mundane economy, business, or even first-class air travel to Hawaii, there's another world, largely hidden away: travel by private jet to Hawaii. Let's get clear. This is something we are not advocating, have ever done, or even envisioned. Your editors can count their experience with a private plane on just one hand. One such event was getting stuck on Lanai years ago with no flights to Honolulu, and another was in Southern Africa. Both were Cessna, single-engine prop planes, and unlike what we are about to discuss. So here goes.
Private "friction-less" jet flight travel is booming. It lets you pick your schedule, arrive last-minute at smaller airports, and drive straight to and from the plane for the ultimate in convenience and amenities.
In a world where avoiding airports, airlines, TSA, and crowding would be favored by the rich and famous, it's a no-brainer that this is a thriving industry despite the associated expense and environmental impact.
Four Seasons Lanai Includes Jet Service from Honolulu.
Here's a way to try a private jet built into a hotel's cost. Offer must be booked by December 31, 2022, for arrivals by April 30, 2023. Book a room or suite at Four Seasons Lanai and enjoy luxury air service from HNL to Lanai. If you are staying on another island, they will pick you up for an additional fee. Go to the flight form to start the process, and let us know if you do.
Private Jet to Hawaii from the Mainland.
From private jet airports in Los Angeles, including Van Nuys and other destinations, private jet charters to Hawaii is an enormous, fast-growing business that appears to be thriving as a "them-and-us" world continues to differentiate most from the super wealthy. Maui is one of the iconic destinations in the Hawaiian Islands, popular for private jet flights. So too are the Big Island, Kauai, and Oahu. These charter private plane flights whisk you and your family or friends, sometimes up to 14 passengers in total, to Kona International Airport, Hilo International Airport, Waimea-Kohala Airport, Kapalua Airport, Lanai Airport, Molokai Airport, Lihue Airport, or other airports in the islands, for the ultimate in luxury vacation travel.
"Empty legs" bring a modicum of "economy" to private charters.
Here's one way you might be able to travel privately at a fraction of the cost. When visitors arrive private trans-Pacific at Kahului airport, for example, for a vacation, what happens with that plane in a one-way scenario? It turns out that you can buy or bid for "empty legs" to return the aircraft to whence it came or is needed elsewhere on the mainland. These empty-leg flights on private charter jets are offered for as much as 75% off the regular price.
Environmental impact of a private jet to Hawaii.
It is said by environmentalists and regulators worldwide that the climate impact of aviation is both very fast-growing and disproportionate. European regulators say that 1% of people cause 50% of global aviation emissions due to the rich using private jets, especially (unlike Hawaii) for short distances. Private jets have an enormous impact on the environment. In one hour, a private jet emits two tons of CO2. That while an average person's annual activity is eight tons of CO2.
In pre-pandemic 2019, 10% of all flights in France were on private jets. And these private jets produce up to 15x more pollution than commercial flights per passenger.
Who flies on a private jet to Hawaii?
While we have no personal experience, we've heard many stories about private jets. People, their pets, and the security details. The behavior onboard that we won't get into. People use these charters as their private homes in the sky, ranging from mild to wild, together with private flight attendants to serve. Speaking of which, no one will cut you off from too much alcohol the way a flight attendant will for a good reason on a regular flight.
Passengers range from celebrities, the ultra and wannabe-wealthy, business people, and professional athletes. One newsworthy example is Prince Harry, who recently flew a private jet charter between Santa Barbara and London at the same speed as a commercial jetliner. It isn't clear if the royals own a private jet or lease it.
Maui's Jeff Bezos boasts a $65M private jet, a Gulfstream G650ER that seats eight passengers. Hawaii newcomer Mark Cuban owns three jets, while Maui's Oprah Winfrey also owns a Gulfstream G650 jet. The Twitter photo below is said to be Mark Zuckerberg's private jet.
The Uber of private jets brings some economy into the equation.
In a world previously unknown to us, we found an app, Flewber, which provides access to private jet charter service on 9k planes and nearly 2,000 airports.
Flewber offers real-time private jet reservations. The company has been around for four years and lets users search by address, airport code (JHM, ITO, OGG, HNL, etc.), or a point of interest to find departure and destination options. It is said to be best for last-minute private flight options.
Book or bid options are available. We tested to see what was offered this weekend between Honolulu (phnl) and Van Nuys and found a flight for a mere $65k. Supposedly you can save up to 60% of whatever a typical fare is on a one-way flight. So that is a jaw-dropping $39,000. But on a private jet that seats up to 14, that would be $2,786 per person.
The app also has a share button to send your plans to family or friends who can come to Hawaii with you and hopefully also share the price. No memberships are required.
It seems like airline travel is a tougher proposition arguably than ever before. That, between delays, changed and canceled flights, airline call centers, and unruly travelers, to start. So the success of luxury private flights to Hawaii was predictable. Especially now, membership-based or ad-hoc rentals are easy to get, even though they are costly.
If the flights aren't luxurious enough in and of themselves, you can opt for meals from top chefs, live in-flight entertainment, bring your pets, etc.
Disclosure: We receive a small commission on purchases from some of the links on Beat of Hawaii. These links cost you nothing and provide income necessary to offer our website to you. Mahalo! Privacy Policy and Disclosures.